Outdoor Living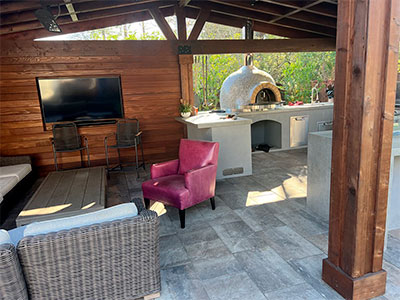 At Saratoga Pavers, we believe that the best outdoor spaces combine functionality with subtle elegance. As a leading company in the outdoor living and hardscaping industry in Los Gatos, Saratoga, CA, we have built a strong reputation for creating outdoor areas that enhance your property's value while providing practicality and ease of maintenance.


Range of Outdoor Living Services
Our comprehensive services include outdoor kitchens, fireplaces, barbecues, fire pits, and pergolas, all designed and installed by our capable team of specialists.


Designing Practical Outdoor Kitchens
An outdoor kitchen can transform any home by extending the living spaces into the great outdoors. It provides an expansive and open look while allowing you to spend quality time with your family and friends while cooking and grilling. Our skilled professionals can create superb outdoor kitchen layouts that seamlessly blend with your property's architectural elements. We prioritize practicality and durability, ensuring that your outdoor kitchen looks great and functions efficiently.


Creating Stunning Outdoor Fireplaces
A fire feature adds warmth and ambiance to any backyard, making it a popular addition to outdoor spaces. We design and construct well-planned fireplaces using high-quality materials to ensure longevity. Whether you prefer natural stones like bluestone, sandstone, granite, or basalt, or the classic appeal of brick, our team can create a custom outdoor fireplace that becomes the focal point of your backyard. We use concrete with natural stone veneers to craft a stunning finish that complements the architectural features of your yard and home.


Exceptional Outdoor Barbecues
Our expertise in outdoor grill design and installation is second to none. Whether you want to incorporate a barbecue into a new outdoor kitchen or add it to an existing one, we have you covered. Every task is manageable for our team. We can help you choose a standalone grill or integrate it into your outdoor kitchen island. In the planning stages, we consider all factors to ensure a seamless installation. Additionally, we offer a variety of add-ons, such as pizza pans and rotisseries, to enhance your outdoor cooking experience.


Compact and Stylish Fire Pits
A fire pit is an excellent choice for a more compact fire feature. It can serve as the highlight of your garden or blend in with the scenery, depending on your preference. Despite its smaller size, a fire pit only takes up a little room or obstructs any views, allowing you to enjoy your backyard fully. When you work with experienced professionals like our team for your fire pit installation, you can expect top-notch quality and attention to detail.


Shade and Style with Pergolas
We provide turnkey outdoor living solutions, including the construction of patios, decks, and shade structures like pergolas. A pergola is a fantastic way to create welcoming shade on a patio or backyard. We customize the pergola's shape to complement your house's existing architecture, ensuring a harmonious blend. We collaborate closely with each client, understanding their ideas and preferences to create superb structures and installations.


Cost-Effective And Durable Solutions
Our team of experts provides durable outdoor amenities that will stand the test of time and offer you and your guests a setting to enjoy your yard space thoroughly. We carefully plan the placement and layout of fireplaces and seating zones, ensuring optimal functionality and comfort. Our innovative hardscaping solutions and expertise fuse creativity, material expertise, and state-of-the-art installation methods to design stunning outdoor areas that considerably increase your home's value. We prioritize quick project completion and outstanding customer service, ensuring that you can start enjoying yourself.

For more information about our outdoor kitchens, fireplaces, fire pits, pergolas, and outdoor barbeques, please call Saratoga Pavers at 408-621-1248You can also write to us via this Contact Us form, and we will contact you soon to discuss your requirements for a unique and functional outdoor space.

Click on the images below to view a larger display.


Photo 1

Photo 2

Photo 3

Photo 4

Photo 5

Photo 6

Photo 7

Photo 8

Photo 9

Photo 10

Photo 11