BBQ's & Fire Pits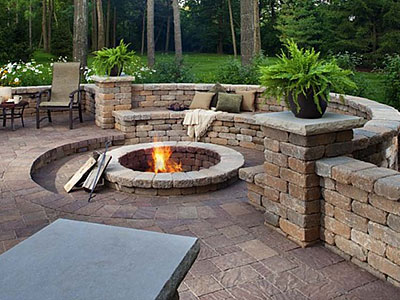 While it's great to gather around a fire feature during the cold winter evening, that isn't the only time you can enjoy spending some leisure time in your outdoor spaces. A brick fire pit or custom built BBQ in your yard can become the perfect spot to relax on a cold spring or autumn evening, or a place to have some great cook outs.

These features create a beautiful ambiance in your landscape, encouraging you to use your yard spaces more often. When you're having an outdoor fire pit or BBQ built, you want to be sure that the contractors you hire have the skills, experience, and resources to handle the job to your satisfaction.

Companies like Saratoga Pavers offer the perfect blend of quality construction and affordability. They cater to clients in the around Los Gatos, Saratoga and Monte Serena. They also handle projects for clients living in Los Altos, Woodside, CA and the surrounding areas.


Custom Natural Stone Fire Pit
Skilled and creative masons have the ability to construct beautiful brick and natural stone fire pits. When these features are being designed and planned, care will be taken to ensure that the styling blends in perfectly with the rest of your landscape.

The company will also use materials that are weather-resistant and resilient, ensuring that the feature will last for a number of years without any trouble. An outdoor fire pit is one of the best options for homeowners that want a compact fire feature on their property. Full-scale fireplaces look impressive but not every landscape has the space for them. If you have a compact size landscape or yard, yet want a fire feature that you can gather around, a fire pit is a great option for you.


Comprehensive Fire Feature Installation Services
The company that handles this installation for you will also ensure that the surrounding areas are designed and installed to perfection. For example, if you want walls with built-in seating constructed around the fire pit they would be able to handle this job. Paver units made of natural stone, brick or interlocking concrete can be used in the flooring around the feature.

The objective is to create a leisure area that you and your family and friends can enjoy for a number of years. In addition to the actual fire pit, you can also get a grill installation for it. This can quickly turn it into a cooking source in your yard. Skilled designers can provide suggestions about which spot in the yard would work best for a fire pit installation. If you have space on your patio, a natural stone fire pit can become the perfect addition to it.

A fire pit is not only a great addition to your backyard, but would also increase the value of your property. Creating fire pit zones that are resilient, attractive and long-lasting is about making sure that you hire skilled and experienced professionals like Saratoga Pavers. They will make sure you get the kind of features and structures you want at fire pit cost that fits perfectly into your budget.


"MORE ARTICLES"
Artificial Grass
Retaining Walls