Walkways & Paths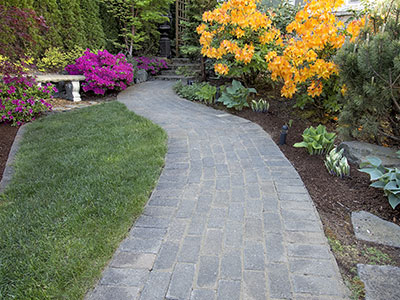 When you install walkways leading from your driveway or your gazebo (http://www.saratogapavers.com/gazebos-and-arbors.php), it is essential to make sure that the materials used in them complement the aesthetics of the driveway installation. If you are getting the walkways constructed along with your driveway, it becomes very easy to match the materials as well as the overall styling and patterns of the paved areas.

On the other hand, if you are getting the stone walkways installed at a later stage, you need to make sure that these features blend in well with the existing structures in your landscape. Since there are various things you need to keep in view while constructing walkways and paths, it's best to hire the services of a well-established like Saratoga Pavers.


Paver Walkways Designs and Plans
Hiring experienced operators is one of the best ways to ensure that you get high-quality services and that the walkways and stone paths will last for several years. When it comes to materials, you will find there is a wide variety to choose from. However, most landscaping professionals recommend the use of paver stones for these installations.

Pavers are available in a variety of sizes and shapes. You can choose from different colors, and textures. Creative landscape designers would be able to provide design ideas to create a unique aesthetic in the outdoor spaces of your home. They will also make sure that the walkway paver designs look like a natural progression from the driveway that connects to them.


Garden Path Design Ideas
If the paths are in any other area of the yard, you can consider using other materials such as brick or natural stone as well. All of these products are extremely hardy and add to the integrity of your landscape. They are easy to maintain which also means it reduces the cost of ownership for you. All of these factors are important while installing any outdoor features as these areas are constantly exposed to the UV rays of the sun as well as other climatic changes.


Custom Walkway Construction
Skilled landscape designers would be able to provide you detailed information about the different types of materials as well as the advantages and advantages of using them. They will also recommend which one would be best-suited to your walkway installation project and budget.

This kind of a customized approach helps ensure that the brick paths and walkways that you get installed in your landscape will be a true value-add to your property. Companies like Saratoga Pavers use high quality materials and products in these installations, which mean you are ensured of resilient and long-lasting yard features.

"MORE ARTICLES"
Artificial Grass
Retaining Walls
BBQ's & Firepits
Paver Driveways